A collaborative encyclopedia about Maggie Stiefvater's The Raven Cycle book series that anyone can edit!
About this wiki • Help • Terms of Use • Wanted Pages • Categories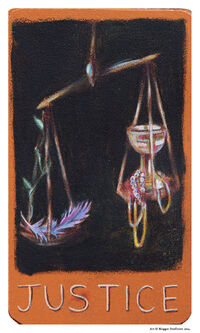 Maggie Stiefvater
recently designed 22 tarot cards for her The Raven Cycle Tarot Tour. She will use the cards on her tour to reveal the past, present and future of
The Raven Cycle
series.


Justice (see photos) is card number 11, and represents fairness and balance. The Justice card relates to the laws of the Universe the invisible principles that keep everything flowing forward smoothly through infinite causal chains. These are laws that cannot be violated; only enforced.

Read more about the tarot cards here...





Which book in the series is your favorite?
Click here for more polls!


Loading RSS data...

Create blog post
Maggie Stiefvater recently created tarot cards for The Raven Cycle book series. She is an incredible designer! Here are some photos from some of the first cards in the deck.

Read more >
See more >